LED Interactive Smart Board
It is a high definition screen like a smart board which functions on its own like a PC. In addition, it works as a projector displaying all the files. For different sorts of tasks, they are utilized in different setups. However, they are mostly used in the business organizations. These LED smart boards can be mounted in the meeting rooms and conference rooms for implementing and communicating information and introducing or initiating a proposal. In the modern days, such boards can be utilized in the schools for adding in the learning of the students. They can also be used for training involving the audience and speaker. Additionally, the smart boards are useful in showing complex diagrams and saving notes. LED smart boards to include a camera and a portable pen along with human visible targets into the picture displayed by the projector presenting positioning information. These LED boards make the presentation easier through the use of gestures. It has the capability to perform challenging tasks easily.
Easier installation:
Usage and installation of IWB are almost everywhere. Meeting rooms and board rooms mounted on a wall or with the floor stand. This can be utilized both for outdoor and indoor, and the study stand can hold it firmly. There is no need to be worried about the venue. Its software can be calibrated easily because of its easy setup. It comes with a pretty simple user manual which provides an answer to every question that arises in your mind regarding the product.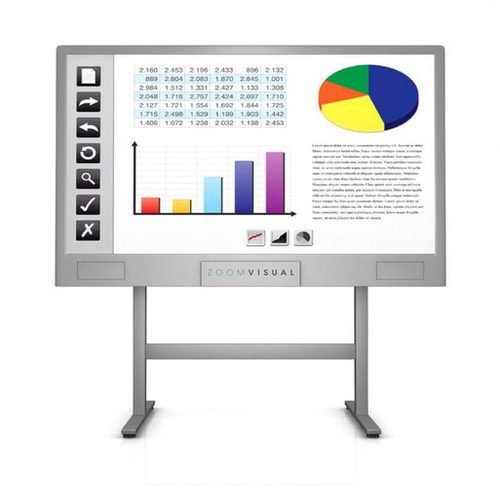 User-friendly:
With quite a few easy steps as a detailed preparation, you can be on your way of utilizing your LED smart board in almost no time at all. That is a plug and play Framework installed in it. It can easily capture data and notes; hence, you don't need to be worried about losing any data. The simplicity of its usage enables even a child and adult to operate it without any hesitation. It comes with detailed instructions, and there are no complicated or complex setups.
Ergonomic design:
With this great feature, you can turn your dry and boring presentation into a lively experience. You are able to add, manipulate, edit, zoom in, and remove files or presentation through the use of just a finger. At the same time, you can have it recorded and saved. In addition, you can make your plans interesting through creating a group interaction and contributing ideas using the functional screen of the LED smart board.
24/7 service. Same Day Appointments are Available.
enquiry@zoomvisual.com.my